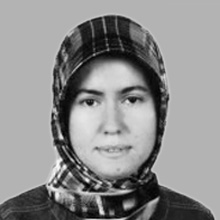 Tayyibe Bardakçı,

Dr.

Faculty Member
She was born in Gediz/Kütahya. Graduated from Boğaziçi University. She completed her physics PhD at Fatih University in 2015. In October of the same year, she started her second master study at Istanbul Medical Faculty, Department of Medical History and Ethics. She received her expertise on medical history and ethics by giving a thesis entitled as "A Normative Analysis of Human Enhancement Procedures." She has been working as coordinator at Beşikçizade Center for Medical Humanities since 2017, and has been involved in the organization of various events (symposia, conferences, workshops, and lecture series, etc.) related to medical history and bioethics. Her research interests focus on ethical dimension of emerging technologies such as human enhancement, transhumanism, and big data and artificial intelligence applications in medicine.
Main Areas: Tıp Tarihi ve Etik,
2020 - İnsanı Geliştirme Tartışmalarına Biyoetik Bir Bakış
BARDAKÇI TAYYİBE,ERTİN HAKAN.
Kutadgubilig: Felsefe Bilim Araştırmaları,
31-52.
2020 - Sporda İnsanı Geliştirme: Doping ve Dopingle Mücadelenin Tarihi
ERTİN HAKAN,BARDAKÇI TAYYİBE.
Türkiye Klinikleri Tıp Etiği-Hukuku Tarihi Dergisi,
28(1),
99-109.
2014 - DFT calculations and experimental FT IR dispersive Raman and EPR spectral studies of Copper II chloride complex with 3 amino 1 methylbenzene
KUMRU MUSTAFA, BARDAKCI TAYYİBE, GÜNER SADIK.
SPECTROCHIMICA ACTA PART A-MOLECULAR AND BIOMOLECULAR SPECTROSCOPY,
123(),
187-193.
2013 - Molecular structure vibrational and EPR spectra of Cu II chloride complex of 4 amino 1 methylbenzene combined with quantum chemical calculations
BARDAKCI TAYYIBE, KUMRU MUSTAFA, GÜNER SADIK.
JOURNAL OF MOLECULAR STRUCTURE,
1054(),
76-82.
2012 - Theoretical and experimental studies on the vibrational spectra of 3 quinolinecarboxaldehyde
KUMRU MUSTAFA, KÜÇÜK VESİLE, BARDAKÇI TAYYİBE.
SPECTROCHIMICA ACTA PART A-MOLECULAR AND BIOMOLECULAR SPECTROSCOPY,
90(),
28-34.